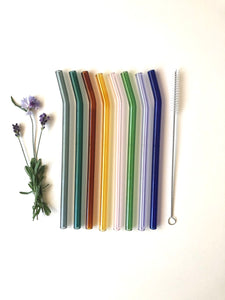 Glass Straws, set of eight Bent Rainbow Colour Mix, reusable drinking straws. One each of Grey, Pink, Blue, Purple, Amber, Yellow, Emerald Green, Lake Green.
Handmade out of sturdy borosilicate glass.
8" long X 9.5mm wide.
*Comes with a free cleaning brush*
Every glass straw made in my studio is:
•An Eco friendly alternative to plastic straws
•Handmade in Canada
•Ideal for hot or cold liquids
•Non-porous and hypo-allergenic
•BPA and toxin free
•Helps reduce teeth staining
•Easy to clean and dishwasher safe
•Kiln annealed for durability
•Made with durable borosilicate glass
Did you know,
In North America alone Billions of plastic straws a year are making there way into landfills and littering our waterways and oceans. One plastic straw takes an estimated 200 years to break down.
Say no to single use plastic products!