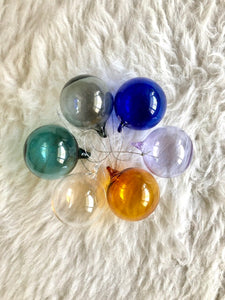 These simple + sweet set of six mini ornaments in Clear, Lake Green, Blue, Lavender, Amber, Grey have been hand blown in my studio.
They measure approximately 2" around and come on a transparent champagne coloured ribbon.
* Each of my pieces are handmade creating one of a kind results.
* Made with borosilicate glass
* My glass is annealed in a kiln for strength and durability however please handle and store your glass piece with care.